Clipper Launches Web3 Referrals on Fuul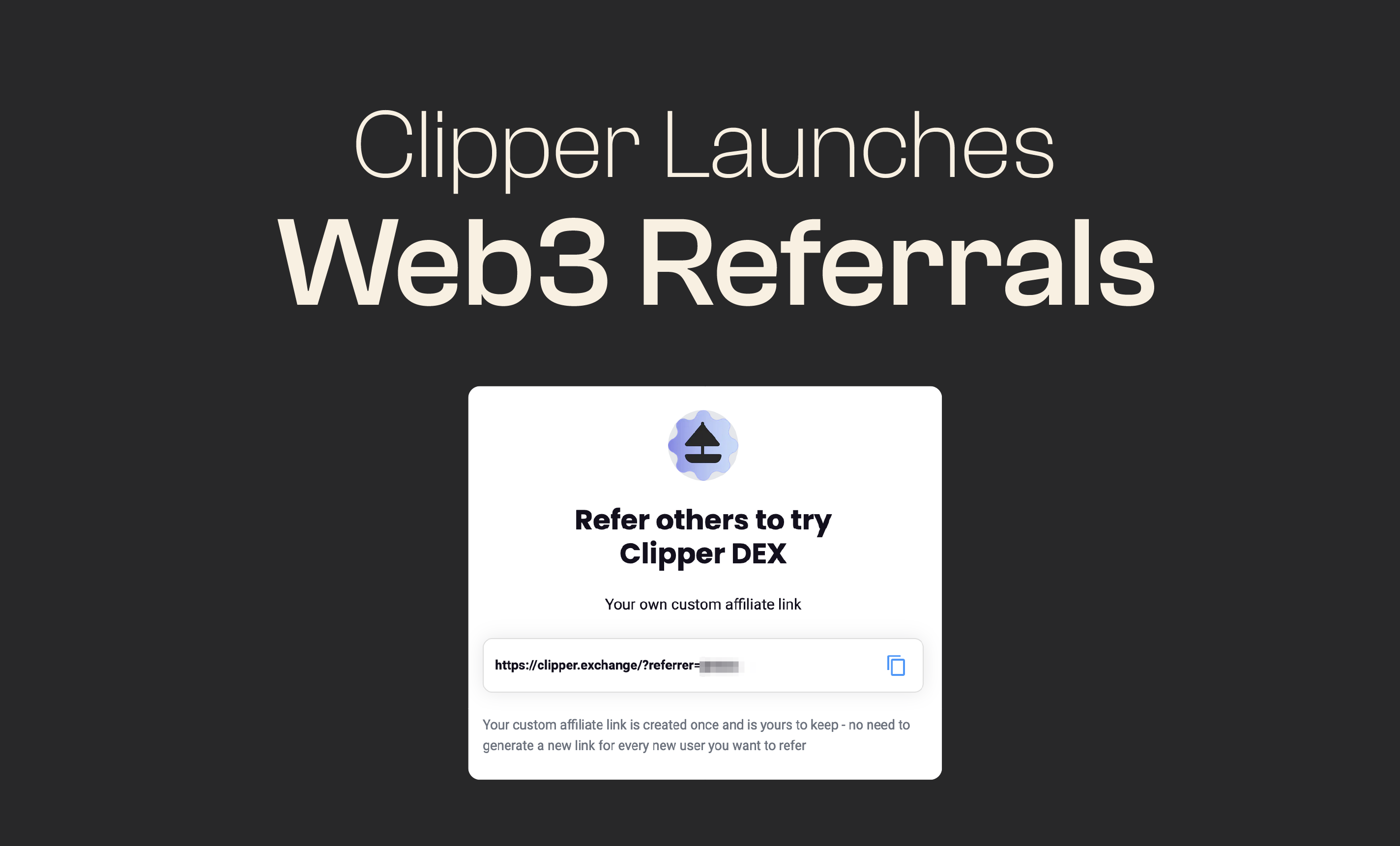 Introducing Clipper's Referral Program on Fuul.xyz
ClipperDEX is partnering with Fuul to deliver a token-denominated referral program built for DeFi. This program is designed to reward loyal pirates for spreading the word about ClipperDEX, and it comes with some exciting perks that will leave you swimming in SAIL tokens! You will receive 2 SAIL token for every $1 each of your referrals deposit. That's a 200% match in SAIL for every $1 deposited through your referral link.
Here's how you can get started.
Step 1: Sign Up
Visit Clipper's Fuul referral page and connect your wallet to get started. Fuul will send SAIL rewards to the wallet you sign up with.
Step 2: Create Your Referral Link
After accessing the program, you'll have the opportunity to create your very own personalized referral link. This link is your key to unlocking rewards, so make it unique and memorable.
Your link will be your tool for inviting friends, fellow degens, and anyone else who uses it to deposit into any of Clipper's Core Liquidity Pools.
Step 3: Share Your Referral Link
Now comes the fun part – Share Your Link!
Spread the word about ClipperDEX to your network through social media, your personal website, or any other communication channels you prefer. Encourage your friends and contacts to deposit on ClipperDEX.
The more people you bring in, the more you stand to gain.
Step 4: Access Your Rewards
The moment you've been waiting for is here! Head over to the Claim page on Fuul to claim your well-deserved rewards.
In a nutshell, ClipperDEX's Referral Program on Fuul offers you the chance to earn SAIL tokens effortlessly. What's more, your referrals earn real yield through Clipper's above-market APY returns plus farming rewards on Optimism and Ethereum. Win-win!
Dive in, create your referral link, share it with your network, and claim your SAIL tokens. It's time to sail into a sea of crypto rewards with ClipperDEX!