Clipper: The First 30 Days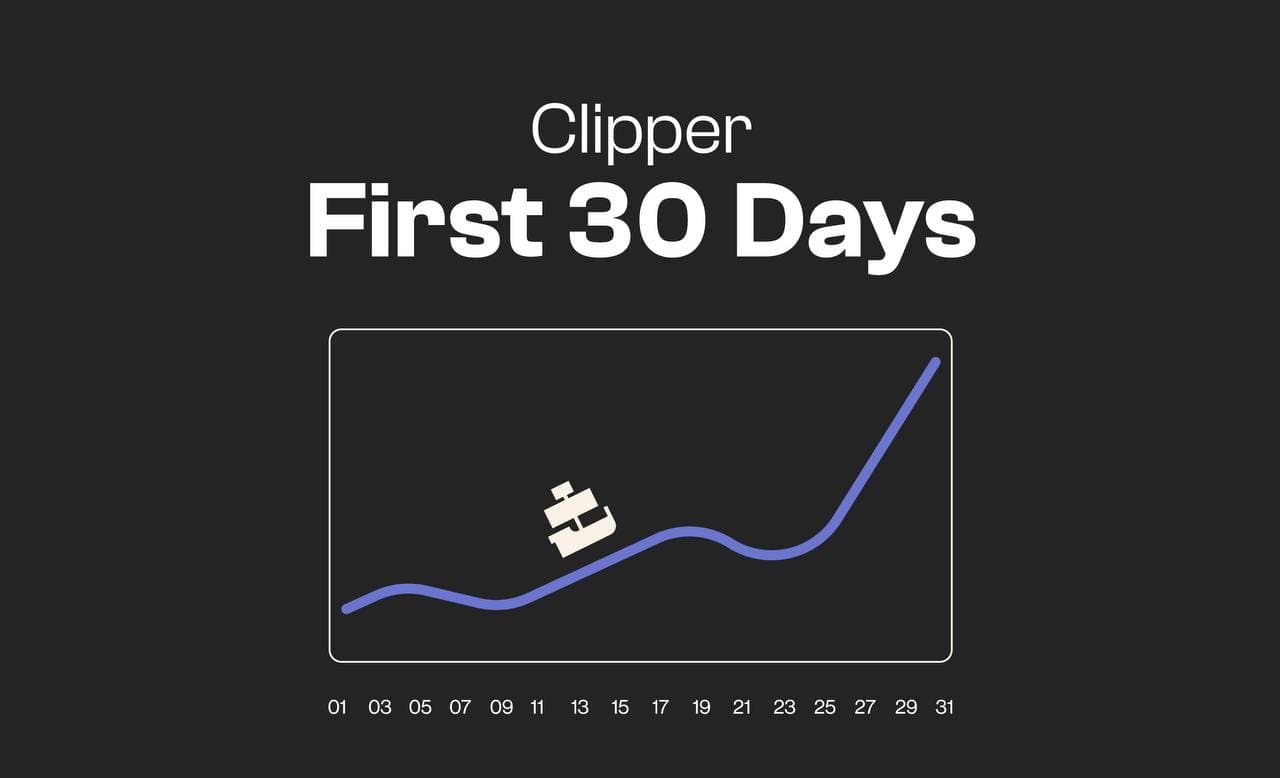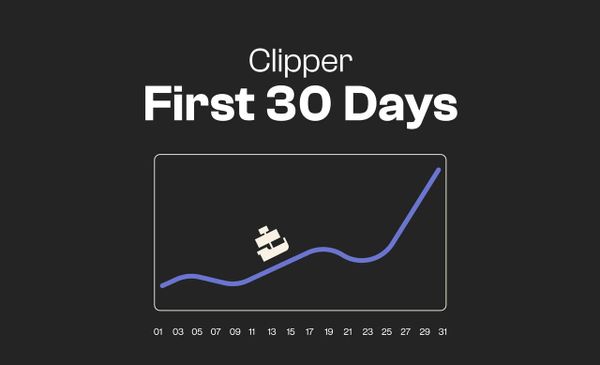 Since launching in mid-July, Clipper has proven to be more than seaworthy! And as we mark the first full month since setting sail we'd like to take a look at how Clipper is faring within the motley world of DeFi.
Nearly 24,000 trades have already been made on the best DEX for retail trades, with an average trade size of $3,000, and Clipper has regularly ranked among the top five DEXs in terms of active user count. According to crypto analytics firm Dune, Clipper was in fifth place (excluding aggregators) as of August 16, just behind major players like SushiSwap and Balancer who have been in this space for several years.
Clipper was designed to offer the best prices for trades under $10,000, so we tried to measure how its prices have compared against other DEXs. This is surprisingly difficult to measure directly, so we proxied it by analyzing trades through 1inch Network under $10,000 on the pairs Clipper supports (BTC & ETH against Stablecoins) over the past 30 days.
The results surpassed our expectations! Clipper processed more of these transactions from 1inch Network than any other DEX, with 38% routed to Clipper vs. only 30% routed to Uniswap! The smaller the transaction, the better Clipper performed. On trades under $5K, 1inch Network routed 46% to Clipper with only 24% to Uniswap; on trades under $2.5K, 1inch Network routed 56% to Clipper with only 17% to Uniswap, and on trades under $1K a whopping 67% of all trades were routed to Clipper.

Note that it is a good sign that Clipper doesn't have the best prices 100% of the time. There are so many DEXs out there and many of them are thinly traded. Imagine that ETH has been increasing in price steadily; a DEX with low liquidity and trade volume may be slow to update, meaning that it would gladly sell ETH at a much lower price than what the market commands. Clipper would be doing traders a disservice to compete with unprofitable exchanges, because causing those losses to Clipper's LPs would necessitate compensating them with higher fees on all other trades. If a different DEX offers traders a price that is too good to be true, then we support you in taking it. For those who want to make trades under $10K at a DEX designed just for them, where they know they'll get the best price the overwhelming majority of the time, and a fair price 100% of the time, Clipper is the only ship they need.
Some more stats from Clipper's first month of sailing as of August 16, 2021:
$70M+ in trade volume
24,000 transactions
7,500 unique traders
For a more in-depth look at Clipper's performance, please visit this new real-time dashboard, which gives a bird's eye view of Clipper's on-chain activity:
Additionally, the DeFi community has expressed interest in participating in Clipper's LP program, so we've begun accepting requests from those who would like to get in on the action. We'll release more info on Clipper's LP program soon, so if you would like to receive updates and further details please sign up for the waitlist here.
We're excited to continue to expand Clipper's offerings and ensure that everyday crypto traders have a safe, secure place to trade crypto at fair prices, free from whales and other usurious players. We're glad you decided to embark on this journey with Clipper and look forward to smooth sailing together in the months and years to come!