Behold! Clipper's OP Token Distribution Plan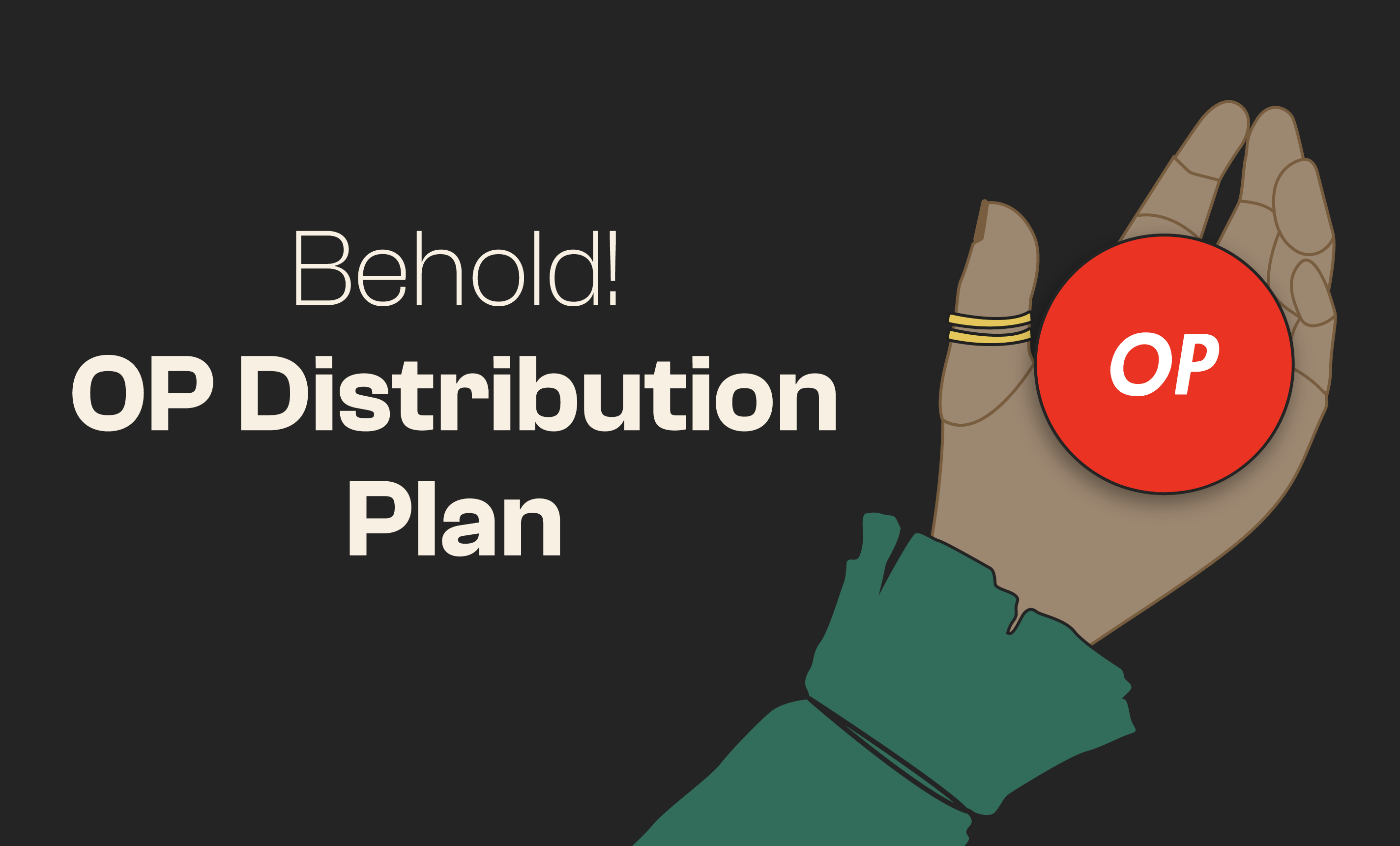 Note: This article has been amended for clarity, following community feedback.
Arrrrr you feeling Optimistic? Hopefully so, because the time has come to set your sights on Clipper's OP token distribution plan!
The OP tokens are a grant provided to Clipper by the Optimism team. The grant was awarded contingent on the agreement that the tokens be used as rewards to promote the longevity of both Clipper AND Optimism. Therefore, the distribution eligibility requirements are designed to reward community members who are active and loyal to both projects. In this distribution round, there are 148,600 OP tokens available to be distributed to 26,888 eligible community crypto addresses.
For this distribution round, there are three categories of qualifying community members. This breakdown is designed to reward multiple types of Clipper community members, namely the liquidity depositors who enable Clipper's core operations, the most active Clipper Optimism traders, and every pirate that completed the OP/Galxe quest before the snapshot on December 15, 2022.
Qualifying community members:
Sponsorship Depositors: Sponsor depositors are LPs who deposited liquidity into both the Clipper Optimism pool and the Mainnet Sponsorship contract AND did not withdraw from either chain before the distribution. These users also needed to have at least 20 Clipper LP tokens (approx $20) in the mainnet fee-split contract. Token allocation: 500 OP per address.
Top Traders: In order to be eligible for this allocation, you needed to have executed at least 20 transactions on Clipper AND completed more transactions on Clipper than on the other major Optimism DEXs (Uniswap, Velodrome, Rubicon, Curve, Beethoven X) COMBINED between the latest Clipper redeploy and the snapshot. In other words, not every user who has made over 20 trades on Clipper is classified as a top trader; you also must have used Clipper more than ALL other major Optimism DEXs put together. Token allocation: 50 OP per address.
Galxe Quest Completers: Any wallet that completed the OP/Galxe/Clipper campaign before December 15, 2022, is eligible to receive OP tokens. We recognize that the quest campaign ran through January 17, 2023 so December 15, 2022 may feel like an arbitrary cut-off date. Our reasons for choosing this date are as follows: first, the list of wallets is provided to us by a third-party development team and the Clipper team isn't able to be as flexible and adaptive with external data requests. Second, we wanted to ensure we would have access to Galxe's dev team before everyone left for the winter holidays. And lastly, since Clipper received the OP Token distribution grant in 2022, we wanted to prioritize rewarding community activity that took place within that same year. The Clipper team landed on December 15, 2022 as the best date that balanced all these constraints. Token allocation: 5 OP per address.
When the snapshot was taken in December, AdmiralDAO set aside a reserve of OP tokens to ensure depositors would achieve 30% APY on their deposits over this period. (ex: if depositors earned a 5% yield, they would have received an annualized return of 25% in OP tokens, bringing their LP yield up to 30%).
As fate would have it, Clipper's protocol ended up being so effective that it organically generated 25%+ in LP yield over this period without tapping into those reserved OP tokens! Liquidity providers aboard other DEXs may be bleeding from their bottom lines, but Clipper's seaworthy design continues to shine. This means all the unused OP tokens have been saved and will be shared during future community events. What fun!
Last year's stormy seas are behind us--Clipper's OP token distribution plan takes place today. So cheers me mateys to a rip-roaring 2023, with a fresh flow of Optimism (and more new Adventures) to come!
---
Addendum

There Are Still OP Tokens Left To Claim!
The OP distribution system has largely been a success. Within 48 hours, a little over two-thirds (~100,000) of the available tokens have been claimed and distributed. Wow!
However, there is still OP left to claim! As of January 26, 2023, there are ~48,000 remaining OP tokens in THIS distribution! On top of that, there are additional funds left in the OP grant distribution wallet for future activations. We intend to use part of the remaining funds in a second wave of rewards and the eligibility period for this second wave will likely begin on December 15, 2022. These tokens will likely be distributed to users who deposited into the fee-split contract and Clipper coves on Optimism.
Be on the lookout for the proposal for the next OP grant and be sure to vote "yes" on receiving more tokens!