Clipper Regulatory Discussion
This post discusses regulations in the U.S. that could pertain to Clipper and AdmiralDAO.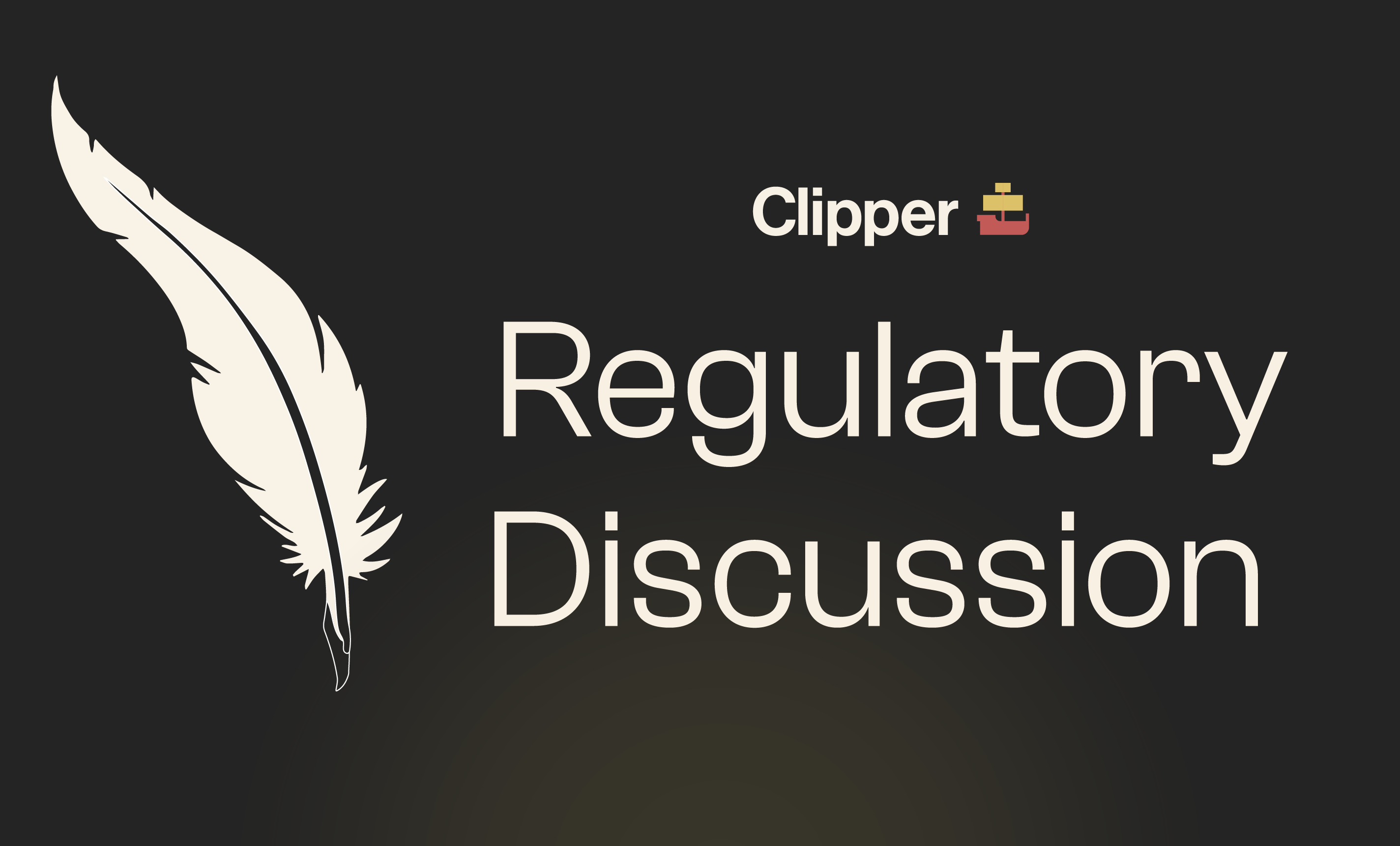 The regulatory environment around the world for crypto is varied and dynamic. As an AdmiralDAO member, it is advised that you follow ongoing legal and regulatory developments to further your understanding of how regulations might apply to AdmiralDAO and Clipper. This post will attempt to discuss regulations specifically in the U.S. since members seem to ask about this the most, but future posts may address other jurisdictions. Please note that this is not legal advice and there is no guarantee that regulators or courts will necessarily agree with this thinking. We are not qualified to render any opinions of law.
What is Clipper from the perspective of the U.S. government?
Clipper is decentralized spot commodities exchange software. It is decentralized because it is non-custodial, which means no person/entity can prevent users from withdrawing their funds. It is a spot commodities exchange because it is explicitly designed for trading blue chip tokens, which we define as major tokens that exhibit the statistical trading characteristics of commodities. For example, on Ethereum mainnet, Clipper trades ETH, WBTC, and USD stablecoins. At the time of writing, the CFTC Chair has expressed they believe both BTC and ETH are commodities, and the SEC has acknowledged that BTC is a commodity but has remained silent regarding ETH.
Does the SEC regulate Clipper?
No, because Clipper trades commodities, it does not meet the criteria of a securities exchange or alternative trading system subject to registration under the Securities Exchange Act. In other words, because Clipper is not a trading venue for securities, it is outside of the SEC's jurisdiction.
Does the CFTC regulate Clipper?
Not as a trading venue. The CFTC does not impose exchange type (FCM, DCO, SEF) rules on spot commodity markets.  Thus, even though the CFTC does regulate spot markets, there is no registration obligation for the venues themselves. CFTC registration rules generally apply to futures, forwards, and derivatives (means for forward delivery, leverage, trading against a reference instrument or other mechanisms for trading of futures, forwards or swaps).
Is Clipper a Money Services Business subject to FinCen registration?
No, Clipper is a non-custodial system where no central agent is responsible for the transmission of or can control assets. As such, Clipper should not meet the criteria for a money services business under the Bank Secrecy Act and therefore not be subject to FinCEN registration.
Who regulates Spot Commodities Exchanges?
There are few regulations on spot commodities. This is because many commodities are very common assets that people interact with throughout daily life (many of whom are end users) and aren't easily subject to manipulation. For example, a farmers market and a grocery store could be characterized as spot commodities exchanges. Regulating these and similar "exchanges" would not only be unnecessary but absurd.
Who regulates Clipper?
At the moment, no regulatory entity oversees Clipper. Clipper is software that people can use to trade commodities.
I'm confused, I thought crypto regulation was all complicated and ambiguous.
"Crypto" is a technology that can be used for many different things. When it is used for activities that are historically highly regulated, things often do get complicated and ambiguous. But when crypto is used for activities that are not historically regulated, things are actually pretty simple. Many observers assume DEX regulation is complicated because most DEXs trade long-tail tokens that may be classified as securities. But Clipper just trades commodities, making it as straightforward to regulate as your local grocer.