Clipper in 2021
2021 was quite the year for Clipper! Before we set sail for new DeFi destinations in 2022, let's take a moment to run through Clipper's first six months — and our collective accomplishments to date!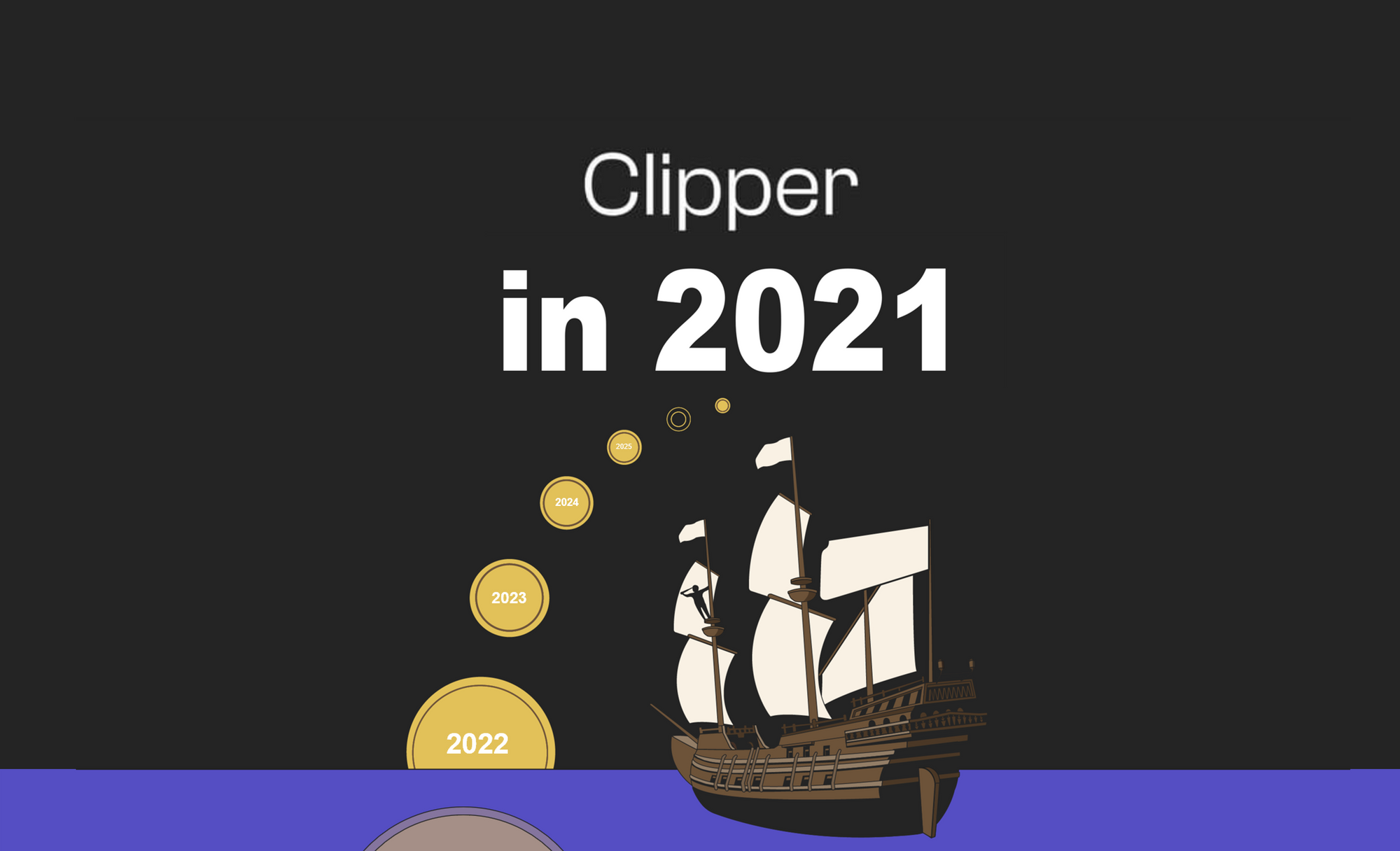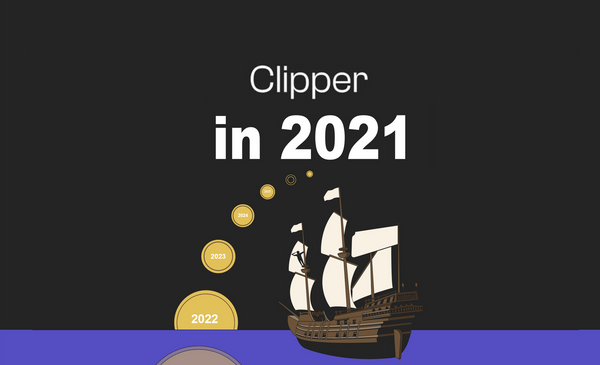 Note: In April 2022, Clipper's architecture was upgraded to a novel Formula Market Maker (FMM) model, which allows for lower gas costs, broader price optimization, and smoother liquidity deposits/withdrawals. As a result, Clipper's liquidity pools are no longer explicitly capped. This article will remain in place for the sake of transparency, but note that the most accurate and up-to-date explanation of how Clipper works can now be found here.
It's been quite the year for Clipper! Clipper first set sail in July 2021, and since then its pirate crew has grown to 56K+ unique traders. Clipper's launch was immediately followed by a flurry of product updates and community growth, and we hope you're enjoying the ride so far.
Before Clipper sets sail for new DeFi destinations in 2022, let's take a moment to run through Clipper's first six months — and our collective accomplishments to date!
Major Product Milestones
The first three phases of Clipper's original roadmap have been completed and the Shipyard team is plowing full steam ahead into 2022!
Clipper's Performance in 2021
Clipper's mission is to provide the best prices possible for retail trades. Here's how it performed against that goal:
56k+ unique users traded generating the best prices on small trades
200k+ total trades have been placed to-date
Clipper's Total Value Locked grew to $28.5 million ($3.02m on Polygon; $25.48m on Ethereum)
63% Annualized Yield to date for LPs in Clipper's Polygon pool with zero incentives
Clipper's Community Liquidity Programs
Clipper encourages its community to provide liquidity through Community Liquidity Programs (CLP) in which allocations are capped to ensure broad participation. Clipper has had two CLP programs so far - Ethereum and Polygon. With more to come as Clipper upgrades its core architecture and launches on other L1s and L2s.
Clipper on mainnet Ethereum: 389 participants from over 6,000 waitlisted, $3M liquidity cap was reached within minutes. Check out the full debrief
Clipper's CLP on Polygon: 1,300 whitelisted participants and deposited $680,000 in liquidity within a few days. Check out the Polygon CLP recap
Clipper's Community Growth and Launch of the Adventure Series
Clipper's community started from scratch this year, growing to 9,000+ Twitter followers and 10,000+ active Discord members. The most successful community initiative to date was Clipper's first Adventure — a collaborative team competition and digital scavenger hunt that led up to the launch of Clipper's Polygon integration. You can read more about the experience here.
4,200+ members of Clipper's Discord community signed up to participate
2,600+ new unique users bridged to Polygon ecosystem during the Adventure, generating 100,000+ trades on Polygon in under 3 weeks
9 out of 10 Net Promoter Score from the 380+ respondents
5 different collaborations with DeFi projects to enhance project visibility and education
75% of users surveyed post-adventure wished for even MORE Clipper partnerships down the line — and they will not be disappointed!
A few words from the community:
"I liked the fact that in these adventures everyone was friendly and helped if something was not clear. I also met very interesting people thanks to your project. We believe in you and in your future, thanks for the adventure, it was informative and interesting!"
"I liked it very much! Cool tasks, cool team! And the very concept of the competition is always better than just the same tasks for everyone (like modern ambassador programs). The spirit of competition motivates you to do everything faster and better, perfectly unites individual teams and helps to find new communications!"
"What I liked most about these adventures was the interaction and helping each other with pirates from different ships. It showed that we were all going towards the same goal. I met very interesting people thanks to your project."
What's Next for Clipper?
Clipper's builders at Shipyard Software have been busy creating helpful content to educate blockchain veterans and the "crypto curious" alike. This year Shipyard launched a monthly DEX brief and a podcast — stay in the loop by subscribing to the podcast or following Shipyard on Twitter.
Other exciting developments in the 2022 pipeline include a v2 architecture upgrade for Clipper DEX on Ethereum, more L2 and L1 integrations, and exciting new Adventures for the community, including collaborations with other projects. Clipper is the first DEX to come out of Shipyard, and Shipyard plans to build an entire fleet of crypto offerings to ensure safe DeFi seas for free and fair trade.
We're glad you decided to embark on this journey with Clipper and look forward to more smooth sailing together in the months and years to come!